This post may contain affiliate links, which means I'll receive a commission if you purchase through my links—at no extra cost to you. Please read full disclosure for more information.
I have been on a five-star reading streak, so I'm slightly nervous to keep some of these anticipated reads in my TBR (to-be-read) pile for spring, but honestly, reading so many great books for Middle Grade March has taken me out of my reading slump! This is a very ambitious TBR though, considering I'm due in June but could absolutely deliver sooner than that. But we'll take it a day at a time. That's why we call it hopefuls anyway, right?!
Here are the books I'm excited to pick up next:
The Ogress and the Orphans by Kelly Barnhill
Thank you to Algonquin Young Readers for this review copy!
This is one of my most highly anticipated reads of 2022, and I just started it (eeek!). Kelly Barnhill's The Girl Who Drank the Moon is one of the most incredible middle grade books I've read, and while I was hoping The Ogress and the Orphans into Middle Grade March, I didn't receive it from the publisher until a little over halfway through the month. But I think it'll be the perfect spring read!
Here's the synopsis:
Stone-in-the-Glen, once a lovely town, has fallen on hard times. Fires, floods, and other calamities have caused the people to lose their library, their school, their park, and even their neighborliness. The people put their faith in the Mayor, a dazzling fellow who promises he alone can help. After all, he is a famous dragon slayer. (At least, no one has seen a dragon in his presence.) Only the clever children of the Orphan House and the kindly Ogress at the edge of town can see how dire the town's problems are.
Then one day a child goes missing from the Orphan House. At the Mayor's suggestion, all eyes turn to the Ogress. The Orphans know this can't be: the Ogress, along with a flock of excellent crows, secretly delivers gifts to the people of Stone-in-the-Glen.
But how can the Orphans tell the story of the Ogress's goodness to people who refuse to listen? And how can they make their deluded neighbors see the real villain in their midst?
The Ogress and the Orphans was published on March 8, 2022, from Algonquin Young Readers.
Son of the Deep by K. B. Hoyle
Thank you to Owl's Nest Publishers for this review copy!
Well, if you're a part of the online book world, you know about this exciting new publisher cofounded by the equally lovely and talented Katie Stewart and Karin Hoyle. I got to "meet" Karin virtually through the No Thanks We're Booked Podcast that Katie and I ran (boy, do I miss it!), and was so fortunate to get to know a little more about her author journey.
Son of the Deep is a reimagining of Hans Christian Andersen's Little Mermaid—with a very fun twist. The mermaid is actually a merman named Orpheo. I cannot wait to get to this one. The reviews have been stellar so far!
Here's the synopsis:
Once upon a time…
Orpheo never meant to disobey his father or betray his kind, but when he finds the young human woman weeping over the death of her own father, his compassionate heart moves him to comfort her.
All Rose ever wanted was to make her father proud, but after the mysterious Boy in the Sea eases her through her grief, Rose throws aside her reservations and vows she will find the boy and marry him.
As Rose despairs of ever finding him, Orpheo sells his voice to the Sea Witch and gives up his family in a desperate bid to fulfill their love and heal a hundred-year rift between their worlds. But restoration cannot be bought through black magic, and when Orpheo becomes human, Rose does not recognize him.
At the end of all hope, only great sacrifice can bring Rose and Orpheo a happily ever after.
Son of the Deep was published March 15, 2022, from Owl's Nest Publishers.
Black Cake by Charmaine Wilkerson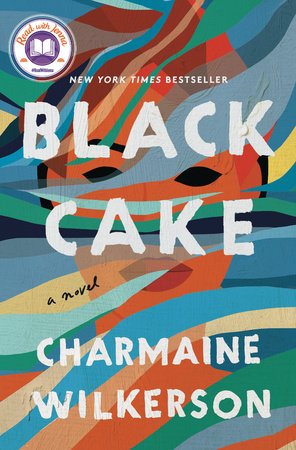 Thanks to Random House for this review copy! #partner
I received this book back in February, but I put it off because a friend of mine said I might be a little sensitive to the subject matter with this pregnancy (she knows my fragile reading state with these hormones better than I do!). Also, to be clear, she herself loved Black Cake.
However, after seeing all of the raving reviews (ahhhh!), I don't think I can stand to set it aside any longer. I'm going to try it out and see if it works for me; otherwise, I'll hold on to it until after baby arrives.
Here's the synopsis:
We can't choose what we inherit. But can we choose who we become?

In present-day California, Eleanor Bennett's death leaves behind a puzzling inheritance for her two children, Byron and Benny: a traditional Caribbean black cake, made from a family recipe with a long history, and a voice recording. In her message, Eleanor shares a tumultuous story about a headstrong young swimmer who escapes her island home under suspicion of murder. The heartbreaking tale Eleanor unfolds, the secrets she still holds back, and the mystery of a long-lost child, challenge everything the siblings thought they knew about their lineage, and themselves.

Can Byron and Benny reclaim their once-close relationship, piece together Eleanor's true history, and fulfill her final request to "share the black cake when the time is right"? Will their mother's revelations bring them back together or leave them feeling more lost than ever?

Charmaine Wilkerson's debut novel is a story of how the inheritance of betrayals, secrets, memories, and even names, can shape relationships and history. Deeply evocative and beautifully written, Black Cake is an extraordinary journey through the life of a family changed forever by the choices of its matriarch.
Black Cake was published on February 1, 2022, from Ballantine Books.
With Love from London by Sarah Jio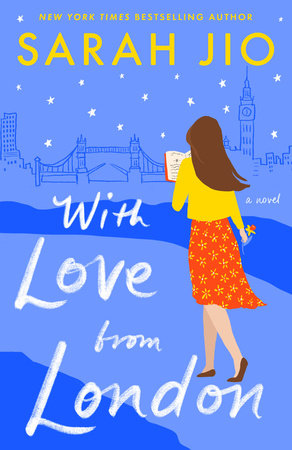 Thanks to Random House for this review copy! #partner
I requested this one back in January but still haven't gotten to it yet (grrr!), but I know it will be perfect for spring or summer. Even if this baby comes early, I'm hoping this will be the book candy I need in early postpartum months. It sounds like the perfect cozy/escapism read.
Here's the synopsis:
A librarian inherits a bookshop from her estranged mother, leading her halfway across the world on a journey of self-discovery that transcends time and honors the unbreakable bonds of love and family.
When librarian Valentina Baker was a teenager, her mother, Eloise, unexpectedly fled to her native London, leaving Val and her father on their own. Now in her thirties and fresh out of a failed marriage, Val feels a nagging disenchantment with her life–and knows she is still heartbroken over her mother's abandonment.
In a bittersweet twist of fate, Val receives word that Eloise has passed away, leaving Val her Primrose Hill apartment and the deed to a bookshop Val never knew she'd owned. Though the news is devastating, Val finds herself more determined than ever to discover who her mother truly was. She jets across the Atlantic, departing Seattle for a new life in charming London.
Slowly but surely, Val begins to piece together Eloise's life in the UK, falling in love with her pastel-colored flat, cozy neighborhood, and tucked-away storefront. But when she discovers that The Book Garden is in danger of going under, Val must work with its eccentric staff to get it in working order. In the process, she learns more about Eloise than she ever thought possible. And as Val races to save the shop, Eloise's own story unfolds, leading both mother and daughter to unearth revelatory truths.
With Love from London was published on February 8, 2022, from Ballantine Books.
One Night on the Island by Josie Silver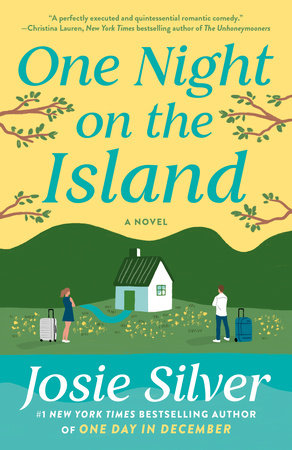 Thanks to Random House for this review copy! #partner
I'm currently reading this one (about 45 pages in!) and it's been such a fun, light and fluffy read so far. I set it aside for Middle Grade March, but I'm itching to pick it up again. I adored Josie's book One Day in December, a lovely holiday contemporary romance, so of course I had to get my hands on this one!
Here's the synopsis:
Spending her thirtieth birthday alone is the last thing that dating columnist Cleo wanted, but she is going on a self-coupling quasi-sabbatical—at the insistence of her boss—in the name of re-energizing herself and adding a new perspective to her column. The remote Irish island she's booked is a far cry from London, but at least it's a chance to hunker down in a luxury cabin and indulge in some quiet, solitary self-care while she figures out her next steps in her love life and her career.
Mac is also looking forward to some time to himself. With his life in Boston deteriorating in ways he can't bring himself to acknowledge, his soul searching has brought him to the same Irish island in search of his roots and some clarity. Unfortunately, a mix-up with the bookings means both solitude seekers have reserved the same one-bedroom hideaway on exactly the same dates.
Instantly at odds with each other, Cleo and Mac don't know how they're going to manage until the next weekly ferry arrives. But as the days go by, they no longer seem to mind each other's company quite as much as they thought they would…
Written with Josie Silver's signature warmth, charm and insights into the human heart, One Night on the Island explores the meaning of home, the joys of escape and how the things we think we want are never the things we really need.
One Night on the Island was published on February 15, 2022, from Ballantine Books.
The Unsinkable Greta James by Jennifer E. Smith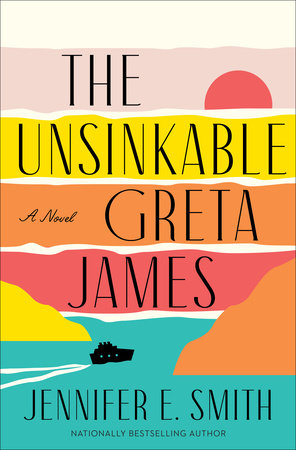 Thanks to Random House for this review copy! #partner
After seeing Kat (@readwithkat) and others rave about this book, I knew I needed to request it ASAP! But really, have you seen Kat gush about this one on Instagram? It sold me. Anything described as a Daisy Jones and Evvie Drake mashup has my attention. I can't wait to dive in to this one, and something tells me spring and summer will be the perfect time for this book!
Here's the synopsis:
Greta James's meteoric rise to indie stardom was hard-won. Before she graced magazine covers and sold out venues, she spent her girlhood strumming her guitar in the family garage. Her first fan was her mother, Helen, whose face shone bright in the dusty downtown bars where she got her start—but not everyone encouraged Greta to follow her dreams. While many daydream about a crowd chanting their name, her father, Conrad, saw only a precarious life ahead for his daughter.

Greta has spent her life trying to prove him wrong, but three months after Helen's sudden death, and weeks before the launch of her high-stakes sophomore album, Greta has an onstage meltdown that goes viral. Attempting to outrun the humiliation and heartbreak, she reluctantly agrees to accompany her father on a week-long Alaskan cruise, the very one that her parents had booked to celebrate their fortieth anniversary.

This could be the James family's last chance to heal old wounds and will prove to be a voyage of discovery for them, as well as for Ben Wilder, a historian also struggling with a major upheaval in his life. Ben is on board to lecture about Jack London's The Call of the Wild, the adventure story Greta's mother adored, and he captures Greta's attention after her streak of dating hanger-ons. As Greta works to build up her confidence and heal, and Ben confronts his uncertain future, they must rely on one another to make sense of life's difficult choices. In the end, Greta must make the most challenging decision of all: to listen to the song within her or make peace with those who love her.
The Unsinkable Greta James was published on March 1, 2022, from Ballantine Books.
The Love of My Life by Rosie Walsh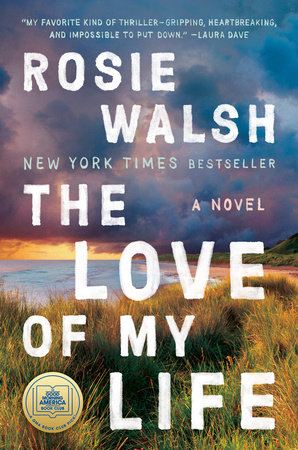 I am a big, big fan of Rosie Walsh and I loved being able to interview her when Ghosted came out! This one has been on my radar for a while, and I've heard it's excellent on audio. Her writing and storytelling reminds me of Liane Moriarty, and The Love of My Life is apparently just as twisty and full of suspense and all the feels as Ghosted. I'm here for it!
Here's the synopsis:
I have held you at night for ten years and I didn't even know your name. We have a child together. A dog, a house.
Who are you?
Emma loves her husband Leo and their young daughter Ruby: she'd do anything for them. But almost everything she's told them about herself is a lie.
And she might just have got away with it, if it weren't for her husband's job. Leo is an obituary writer; Emma a well-known marine biologist. When she suffers a serious illness, Leo copes by doing what he knows best—researching and writing about his wife's life. But as he starts to unravel the truth, he discovers the woman he loves doesn't really exist. Even her name isn't real.
When the very darkest moments of Emma's past finally emerge, she must somehow prove to Leo that she really is the woman he always thought she was . . .
But first, she must tell him about the other love of her life.
The Love of My Life was published on March 1, 2022, from Pamela Dorman Books.
Have you read any of these books, or are you planning to pick any of them up in the next few months? What are your spring hopefuls? Let me know!