This post may contain affiliate links, which means I'll receive a commission if you purchase through my links—at no extra cost to you. Please read full disclosure for more information.
This post is all about the most feel-good, heartwarming middle grade books I picked up recently and why I think they deserve to be on your nightstand—or on your kids' to-be-read list or in your classroom library!
So far, 2022 has brought its fair share of distractions and projects. I normally don't read a ton when I'm stressed, but between back muscle spasms (hi, pregnancy!) and bad colds that have kept me in bed a lot, I've had more time than usual to read.
And even during these stressful months, I've found so much joy in some really heartwarming recent reads! Most of them are middle grade books because of Middle Grade March, but I also enjoyed a few adult recent reads, too, including:
For now, these are my top six most heartwarming, squeal-worthy, absolutely-ate-it-up middle grade books I read in March!
The Scandalous Sisterhood of Prickwillow Place by Julie Berry
This recommendation came from The Read-Aloud Revival, so naturally, I knew I had to pick it up from the library for Middle Grade March. The Scandalous Sisterhood was so fun and surprising. Victorian era isn't typically my jam, but girls' boarding schools or orphanages are, I guess? Anyway, this felt like a funny, cozy, slightly-dark-for-middle-grade-but-still-cute game of Clue, which is just my vibe!
Here's the synopsis:
There's a murderer on the loose—but that doesn't stop the girls of St. Etheldreda's from attempting to hide the death of their headmistress in this rollicking farce.
The students of St. Etheldreda's School for Girls face a bothersome dilemma. Their irascible headmistress, Mrs. Plackett, and her surly brother, Mr. Godding, have been most inconveniently poisoned at Sunday dinner. Now the school will almost certainly be closed and the girls sent home—unless these seven very proper young ladies can hide the murders and convince their neighbors that nothing is wrong.
The Scandalous Sisterhood of Prickwillow Place is a smart, hilarious Victorian romp, full of outrageous plot twists, mistaken identities, and mysterious happenings.
The Scandalous Sisterhood of Prickwillow Place was published on September 23, 2014, from Roaring Brook Press.
Pony by R. J. Palacio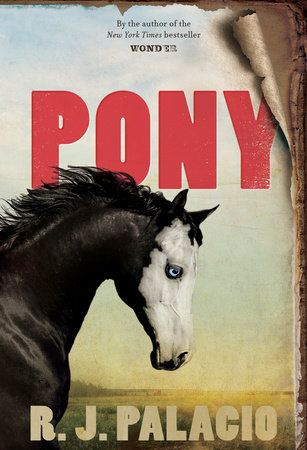 CW: Intense theme of grief; gore and violence, particularly gun violence; drowning mentioned
Pony was the Middle Grade March pick for 2022, and I'm sooo glad it was on my radar! You can check out my review of Pony, but this is a genre-bending, coming-of-age ghost story/adventure fiction that was so unlike anything I'd read before. It's beautiful and heartwarming (and heartbreaking in all the best ways), and I definitely think readers of historical fiction who like war stories and mysterious coming-of-age stories with a little paranormal thrown in should give Pony a shot.
Here's the synopsis:
A story about a boy on a quest to rescue his father, with only a ghost as his companion, and a mysterious pony as his guide.
Twelve-year-old Silas is awoken in the dead of night by three menacing horsemen who take his father away. Silas is left shaken, scared, and alone, except for the presence of his companion, Mittenwool . . . who happens to be a ghost. When a pony shows up at his door, Silas makes the courageous decision to leave his home and embark on a perilous journey to find his father. Along the way, he will face his fears to unlock the secrets of his past and explore the unfathomable mysteries of the world around him.
Pony was published on September 28, 2021, from Knopf Books for Young Readers.
Other Words for Home by Jasmine Warga
CW: Islamophobia, xenophobia, racism, political unrest, arrests, mention of bombings, bullying
This. Stunning. Book. Other Words for Home really brings attention to the hardships immigrants face, including Islamophobia, and how those cultural differences and the challenges of assimilating into an unwelcoming society affect younger and older generations. Jasmine Warga knows how to reach a middle grade audience—so many of the things the main character, Jude, thinks about are so typical and familiar to young girls. But how she portrays Jude's experience and the loss and trauma she endures . . . it's a story that so desperately needs to be told. And it's a story of resilience from a powerful voice.
Here's the synopsis:
I am learning how to be
sad
and happy
at the same time.
Jude never thought she'd be leaving her beloved older brother and father behind, all the way across the ocean in Syria. But when things in her hometown start becoming volatile, Jude and her mother are sent to live in Cincinnati with relatives.
At first, everything in America seems too fast and too loud. The American movies that Jude has always loved haven't quite prepared her for starting school in the US—and her new label of "Middle Eastern," an identity she's never known before. But this life also brings unexpected surprises—there are new friends, a whole new family, and a school musical that Jude might just try out for. Maybe America, too, is a place where Jude can be seen as she really is.
Other Words for Home was published on May 7, 2019, from Balzer + Bray.
Sweep: The Story of a Girl and Her Monster by Jonathan Auxier
This book destroyed me. Wow, wow, wow. What a beautiful, poignant story! If you're looking for a unique story with a classic children's lit feel about sacrifice, what it means to be brave, what it means to belong, what it means to love and how grief can cut us open but expand our hearts to further love again . . . oh. Sweep is just magical and delightful, and Nan will forever have my heart.
Here's the synopsis:
For nearly a century, Victorian London relied on "climbing boys"—orphans owned by chimney sweeps—to clean flues and protect homes from fire. The work was hard, thankless and brutally dangerous. Eleven-year-old Nan Sparrow is quite possibly the best climber who ever lived—and a girl. With her wits and will, she's managed to beat the deadly odds time and time again.
But when Nan gets stuck in a deadly chimney fire, she fears her time has come. Instead, she wakes to find herself in an abandoned attic. And she is not alone. Huddled in the corner is a mysterious creature—a golem—made from ash and coal. This is the creature that saved her from the fire.
Sweep is the story of a girl and her monster. Together, these two outcasts carve out a life together—saving one another in the process.
Sweep was published on September 25, 2018, from Puffin Books.
The Penderwicks: A Summer Tale of Four Sisters, Two Rabbits, and a Very Interesting Boy (The Penderwicks #1) by Jeanne Birdsall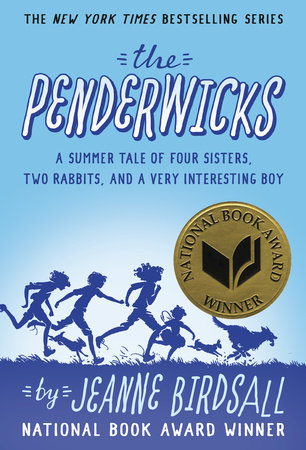 Well, I finally did it, y'all. I read the first book in The Penderwicks series! My eight-year-old neighbor lent me her copy 🙂 and she gushed about this book the whole time. that's how I knew I had to dive in! The Penderwick sisters did not disappoint: the book is full of adventure, sweet friendships, coming-of-age heartache, sisterhood in the richest sense, and all-things childhood. These sisters are right up there with the March sisters for me, and I would protect them at all costs!
Here's the synopsis:
The Penderwick sisters busily discover the summertime magic of Arundel estate's sprawling gardens, treasure-filled attic, tame rabbits, and the cook who makes the best gingerbread in Massachusetts. Best of all is Jeffrey Tifton, son of Arundel's owner, the perfect companion for their adventures. Icy-hearted Mrs. Tifton is less pleased with the Penderwicks than Jeffrey, and warns the new friends to stay out of trouble. Is that any fun? For sure the summer will be unforgettable.
The Penderwicks was published in March 2007 from Yearling.
Hollowpox: The Hunt for Morrigan Crow (Nevermoor #3) by Jessica Townsend
It's no secret around here that I am a big fan of the Nevermoor series! I will say—when I first picked this book up, I was in the world's biggest reading slump, so it took me forever to finish it. But once Middle Grade March started, I knew I was finally going to return to the world of Morrigan Crow, and I'm so glad I did.
Everything about Hollowpox was wonderful and charming, but also a little darker, mysterious, and more complex as Morrigan ages and learns more about herself and her time at the Wundrous Society. The panic about an illness that spreads throughout Nevermoor really left an impact on me in light of COVID-19, so the timing of everything was a little eerie, but in the best way.
Here's the synopsis:
Morrigan Crow and her friends have survived their first year as proud scholars of the elite Wundrous Society, helped bring down the nefarious Ghastly Market, and proven themselves loyal to Unit 919. Now Morrigan faces a new, exciting challenge: to master the mysterious Wretched Arts, and control the power that threatens to consume her.
But a strange and frightening illness has taken hold of Nevermoor, turning infected Wunimals into mindless, vicious Unnimals on the hunt. As victims of the Hollowpox multiply, panic spreads. And with the city she loves in a state of fear, Morrigan quickly realizes it's up to her to find a cure for the Hollowpox, even if it will put her—and everyone in Nevermoor—in more danger than she ever imagined.
Hollowpox was published on October 15, 2020, from Orion Children's Books.
These are the most heartwarming middle grade books and feel-good chapter books I read to kick off the spring and summer. What are some of your favorites?