This post may contain affiliate links, which means I'll receive a commission if you purchase through my links—at no extra cost to you. Please read full disclosure for more information.
Here are the most popular fiction books about food, food memoirs, and other foodie reads I'm adding to my to-be-read list in 2021.
As thanksgiving approaches and hearty-warm recipes rich with memory (and lots of butter!) fill our thoughts, I often think about the long list of foodie books I want to get to sooner rather than later. Most of them seem to be food memoirs, which is fitting, but I have a few cookbooks to try as well.
Here's my to-be-read pile of seven books about the food industry—including the best fiction books about food or the best books about food industry that my foodie friends rave about.
Here's to making our fall and winter reading list as delicious as possible, reader.
Food Memoirs to Read Next
Save Me the Plums: My Gourmet Memoir by Ruth Reichl
New York Times bestselling author Ruth Reichl is a "trailblazing" food writer and beloved restaurant critic, and this food memoir is about how she got into the cutthroat world of magazine publishing.
She became the editor in chief of Gourmet, and Save Me the Plums follows Ruth's personal career journey and marks the beginning of the farm-to-table movement. Readers love this book on audio, so if you're an audiobook lover, make sure to add it to your list—it's at the top of mine!
Read reviews of Save Me the Plums on Goodreads.com.
Tender at the Bone: Growing Up at the Table by Ruth Reichl
This is another foodie book that fans of Ruth Reichl rave about. If you like culinary coming-of-age stories, this one should be number one on your list.
Tender at the Bone is all about how Ruth's passion for food defined her life at an early age. Apparently she includes some fascinating characters and it's very, very funny. I'm curious, those of you who've read both of Ruth Reichl's books: Which did you love more? Are they extremely different? I've heard more about Save Me the Plums, but a childhood/coming-of-age story is always the memoir story I'm most drawn to. Plus, is this not the best title?
Read reviews of Tender at the Bone on Goodreads.com.
RELATED: Book Talk: Sweetbitter by Stephanie Danler
Bread and Wine: A Love Letter to Life Around the Table by Shauna Niequist
This is one I've read but would gladly read again. Bread and Wine is a spiritual memoir that really fills you up. It's made up of a collection of essays about family relationships, friendships, and the meals that shape us.
Bread and Wine is honest, fragile, and a celebration of good food and a good God who teaches and nourishes us.
She includes a few recipes that I haven't tried yet—it's one of the reasons I want to reread it—but the stories surrounding the recipes are ones that stick with you forever. I feel like I'm getting coffee with a friend when I read Shauna's words in Bread and Wine.
Read reviews of Bread and Wine on Goodreads.com.
Stir: My Broken Brain and the Meals that Brought Me Home by Jessica Fechtor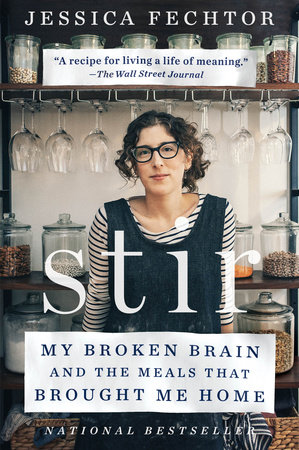 Jessica Fechtor's memoir, Stir, sounds fascinating. At twenty-eight years old, Jessica had a brain aneurysm and nearly died.
She lost her sense of smell and the sight in her left eye, but her recovery journey began in the kitchen, baking and cooking.
I've heard this book beautifully examines how food connects us to our truest selves. I've also heard readers of Susannah Cahalan will love this book, so sign me up—I loved Susannah's Brain on Fire.
Read reviews of Stir: My Broken Brain and the Meals that Brought Me Home on Goodreads.com.
Fiction Books about Food to Read Next
All Four Stars by Tara Dairman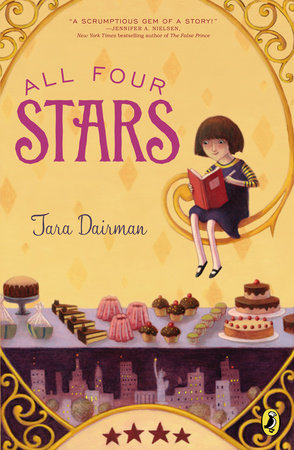 Finally, middle grade books about food! All Four Stars is about Gladys Gatsby: a sixth-grader who just so happens to (secretly) be New York's toughest restaurant critic.
Her fast-food-loving parents have no clue that she's been making gourmet meals since she was seven—which immediately gives me Matilda from Roald Dahl vibes.
At eleven years old, Gladys is mistakenly contacted for the opportunity of a lifetime: writing a restaurant review for one of the largest newspapers in the world. But her dream job doesn't come without its challenges, and keeping her identity a secret will be the real test.
All Four Stars sounds like exactly the kind of book I would have read in middle school—and even now, I love a good middle grade book about extraordinary eleven-year-olds!
Read reviews of All Four Stars on Goodreads.com.
A Taste of Sage by Yaffa S. Santos
A Taste of Sage is a contemporary romance book with a pinch of magical realism (see what I did there?) about a chef, Lumi Santana, who has a secret gift: she can perceive people's emotions by tasting their cooking. Based on the synopsis, Lumi gives me Tita de la Garza from Like Water for Chocolate vibes.
Many readers agree that A Taste of Sage starts out as a familiar rom-com and then turns into something quite unique. Reader be warned though: This book isn't for everyone, and it is on the steamier side of the romance genre.
This book has been sitting on my shelf for way too long, and it looks like a wonderful, fast-paced read. This book was kindly gifted to me by the publisher—so thank you to HarperCollins for the free copy!
Read reviews of A Taste of Sage on Goodreads.com.
Kitchens of the Great Midwest by J. Ryan Stradal
I've heard great things about this page-turning novel, as well as the author's other book, The Lager Queen of Minnesota. Kitchens of the Great Midwest is about a young women who becomes an iconic chef at one of the country's most popular restaurants.
Reviewers say this book captures the beauty of the foodie culture in the Midwest and how food creates community and a sense of identity.
Kitchens of the Great Midwest is also an unexpected mother-daughter story that apparently adds a bittersweet flavor—something I know I would appreciate.
Read reviews of Kitchens of the Great Midwest on Goodreads.com.
Those are my top seven books about food I'm hoping to get to in 2021!